Now that Miller Inspiration has defined the Mission, Vision, Values and Guiding Principles of the Larry H. Miller Group of Companies, we are making each valuable asset available to you.
These resources are intended for the convenience of management and HR personnel. They are at your disposal for training and downloading purposes, as well as for inspirational and instructional meetings. In providing these assets to you, our hope is that you are able to further cultivate the culture of each entity under the Larry H. Miller umbrella.
The content contained in this section of our website is available to use at your discretion, understanding that it is your responsibility to protect the legal, financial and moral well-being of the company. In addition, we ask that you not alter these assets in any way.
---
Who We Are Wall Art
Many organizations find that keeping the mission, vision, values, and guiding principles of the company front and center allows for greater integration into every day practice and culture.
Wall art available in three material options and multiple sizes:
Foam core ($)        –  11″ x 17″   or   24″ x 36″
Silver dibond ($$) –  11″ x 17″,   24″ x 36″   or   46″ x 84″
Acrylic ($$$)          –  11″ x 17″,   24″ x 36″   or   46″ x 84″
If you have been by Total Care Auto recently, you've seen the artwork prominently displayed on their walls. If not, we invite you to check them out on at Jordan Commons, or you can see a few images in the July/August issue of Winning Spirit Article.
To inquire about pricing and to place an order, please contact Kevin Monjar: kevin.monjar@saxtonhorne.com or 801-304-1054 at Saxton Horne. Kevin will be happy to help to coordinate or discuss any custom requests or options with you.
*Taxes and shipping will vary based upon location. Each piece of artwork (excluding foam core) requires four posts to hang properly, so we highly recommend professional installation. You can work with Kevin at Saxton Horne to be sure they are installed correctly.
---
Who We Are Book
All LHM employees should be provided a copy of our Who We Are book during their initial on-boarding process. Our message is universal to the LHM Group of Companies and is timeless. You never have to worry about the book becoming obsolete.
When you are in need of additional Who We Are books, they are available for reorder FREE OF CHARGE. To place an order, please contact us: info@millerinspiration.com. We would like every employee to have one, but we also want to be good stewards of our resources so please be responsible and reduce lost and damaged books.
Corporate Brochure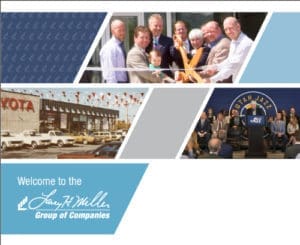 This brochure provides insight into the structure and history of the LHM Group of Companies. Click here to download a digital copy.
---
Who We Are Logos
The Who We Are logo is presented here in two cohesive and dynamic designs, making it easy to customize presentations and handouts. They are available in the following formats: JPG, PNG, and PDF.
---
Wallpapers
Downloadable computer wallpapers are a great reminder of the things taught in onboarding and training meetings. Each wallpaper graphic represents one of the mission, vision, or values. Available in two sizes.
---
Posters
Each of these vibrant posters highlights one of the Mission, Vision, Values, or Guiding Principles of the Larry H. Miller Group of Companies. We also have a poster that displays all of them in a single poster. They can be used for office display, training presentations, and other communications. They come in both print-ready PDF and low-resolution JPG format in two sizes.
---
Videos
Individually engaging videos are available to help demonstrate not only the Mission, Vision, Values and Guiding Principles, but also to highlight the Miller family and the history of the Larry H. Miller Group of Companies.
To find all of the videos from the 2016 presentation, please visit our Video Resource Page.
.